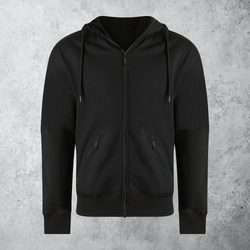 The 48H GO™ Hoodie!
Whether you're on the go, relaxing at home, or going to the gym, our 48H GO™ Hoodie gives you the style and comfort you need. It features extra soft Lycra fabric that offers you a 4-way-stretch to keep you moving with ease, thumb holes to keep you warm when it's cool, a high collar zip-up to keep your style in-check and two great sized pockets to keep all your valuables secure. 
The 48H GO™ Hoodie will give you the freedom to have maximum comfort while offering the style to dress it up or keep it casual. 
✔ 94% Pima Cotton, 6% Lycra 
✔ 4 Way Stretch That Moves with You         
✔ Thumb holes on each side            
✔ High Collar Zipper             
✔ Extra Large Hood                                         
✔ Mid-Weight
✔ Pockets, pockets and media pockets!      
✔ Five Colors
✔ Perfect Fit